The foundation of any successful marketing program starts with strategy.  Without a properly developed, clear and detailed content marketing plan and strategy, you won't be able to develop the right kinds of programs to deliver positive and measurable results for your company. The ultimate goal of any integrated content marketing strategy should always be to help your business get found online by the right prospects (Attract). convert more of them into leads (Convert), and transform those leads into customers (Close).
While the vast majority of marketers currently use content marketing as a part of their marketing strategy, only 32% have a documented content marketing strategy.[1] With 85% of B2B marketers saying that lead generation is be their most important content marketing goal (ahead of sales), marketers who want to succeed at content marketing will need a clearly defined strategy to succeed.[2]
And, the best marketers do put effort into strategy – nearly half (48%) of the most effective B2B marketers have a documented editorial mission statement as part of their content strategy, and 61% of this same group meet with their content team daily or weekly.[3]
What are some of the methods and best practices that you and your company can employ to help build an effective integrated content strategy for success?
Your Strategic Content Marketing Plan
Developing your business' strategic content marketing plan isn't just about a different way of doing marketing, it's about different way of doing business as a whole throughout your entire organization. Marketing today is about creating a business experience that draws in your target audience, builds credibility and trust, and makes your customers want to do business with you.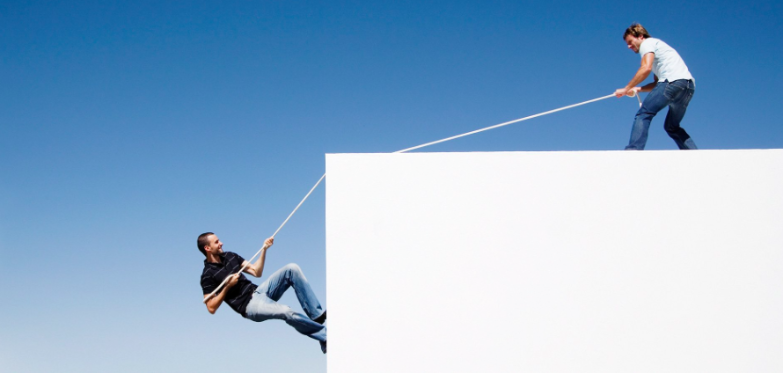 An effective content marketing plan will help your business develop and drive reliable sources of website traffic and new leads. The content assets you create – strategically produced eBooks, blogs, videos, white papers, and other tools – will produce value and continue to generate brand awareness, new leads and business for you as time goes on. However, without being produced within the framework of a clearly planned strategy, your efforts may not produce the results you're looking for, and can even serve against your organization's interests – poorly produced content, producing content off-message or off-brand, or distributing through the wrong channels may hurt your overall marketing efforts.
You will want to plan out a clear and well-defined strategy when developing your company's new content marketing plan. I suggest a multi-step marketing plan program when addressing this important effort, leaving yourself enough time to do it right and allowing time for measurement, evaluation and optimization once your plan is engaged. My recommended 10 steps include:
Set your strategic goals and objectives
Conduct persona research and define your content's market & target audience
Develop your positioning & content marketing strategy
Run a thorough content audit within your organization
Determine a content marketing management & distribution platform
Brainstorm content ideas to promote your message
Determine which types of content you want to create
Create the implementation plan and the resources you need
Produce, publish and promote your content assets
Track, analyze, measure success and continually optimize
Consider approaching your content marketing plan like a new venture approaches its strategic business plan.   As President Abe Lincoln once said, "Give me six hours to chop down a tree, and I will spend the fist four sharpening the axe". Be sure to spend enough time "sharpening the axe" before you begin the production of your content.
Competitive Intelligence
Who is looking after your competitors? Is your marketing and sales team prepared to act on your competitor's weaknesses?
Marketers today have great internal visibility, and understand their funnel, their campaigns, and their website…but most don't understand what's happening externally, outside the four walls of their company.  It's critical for content marketers today – any marketers or businesses, in fact – to look beyond their internal marketing and messaging and know what their competitors are up to. Understanding your competitors' marketing strategy and observing the content that they're publishing will allow your company to expose openings and weaknesses in their messaging that you can fill with the content you create. It will also allow you to more effectively respond to things like new product releases, pricing changes, social media activity and anything you're able to find within your competitors' digital footprint.
A focus on competitive intelligence will enable you to sharpen your content strategy based not only on your organization's products and services, but the entire competitive landscape that you're competing with for business.   It will allow you to take action on the data you collect to produce better and more strategic content to attract the right leads and customers, while making sure that your sales team is never blindsided in a competitive deal.
At Blue Wave, we have address this problem for our clients by leveraging our competitive intelligence platform which generates actionable insights from hundreds of millions of pages across millions of companies, to enable sales & marketing teams to get better results. We leverage our technology to create content that helps our clients compete much more effectively.
Outside Consulting & Fractional CMO Services
Marketing is much more complex today – and more important – than it's ever been. Studies prove that content marketing specifically provides a noticeable improvement on ROI, SEO, trust, engagement and reach. Companies must leverage smart, integrated content marketing strategies, across a variety of channels and in tight coordination with their sales force, to be effective.
The key to a great, results-driven marketing team is great leadership with an experienced marketer at the helm. This means having a qualified and proven Chief Marketing Officer – or, Content Marketing Officer (both "CMOs") – who understands the new marketing and media landscape. He/she will be able to develop a successful integrated marketing strategy that drives results and effectively lead your team.
Unfortunately, a great full-time CMO is out of the question for many businesses. You might not have the time, access or budget for one. This is why a fractional (or part time) is becoming an increasingly popular alternative to many organizations today. In fact, experts suggest that organizations will save anywhere from 40 to 60 percent by hiring a part-time CMO instead of a full-time one. You may want to consider a fractional CMO – or another experienced content marketing consultant – to develop your strategy and drive your content marketing program.
Here are some other benefits you can expect by "going fractional":
The benefit of an outside opinion
Significant cost savings
Experienced resource at the helm
Senior leadership
Faster onboarding than hiring a full time employee
Access to a wider talent pool
A Chief Marketing Officer – or, Content Marketing Officer – will take a data-driven, high-level and integrated approach to your company's marketing success. They're not a replacement to an all-star marketing, sales or customer service team – they're an enhancement to them. Rather one focusing on day-to-day activities, they're going to focus on gathering intelligence and using it to drive your marketing strategy.
At Blue Wave Marketing, we bring 20 years of proven marketing consulting expertise delivering world-class marketing plans, strategies and solutions for startups to midsize and Fortune 500 companies. We will help you maximize the results of your firm's marketing and sales programs. Blue Wave Consultants are experts in the fields of integrated content marketing strategy, with deep knowledge and experience across a range of marketing channels from traditional to digital media.
Give us a call today and lets us help you reach your full potential!
617-576-3100 ext. 204 | contact@bluewavemarketing.com
---
[1] https://www.forbes.com/sites/jaysondemers/2015/12/10/35-content-marketing-statistics-you-need-to-know-in-2016/#6082f59a293b
[2] http://contentmarketinginstitute.com/2015/09/b2b-content-marketing-research/
[3] https://www.forbes.com/sites/jaysondemers/2015/12/10/35-content-marketing-statistics-you-need-to-know-in-2016/#6082f59a293b